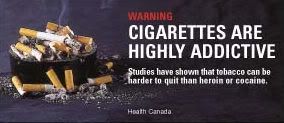 Students Deserve to Know the Truth
As suggested by the below new study, why would smoking or oral tobacco use be independently associated with nearly a doubling of the odds of dropping out of school? We know that nicotine impacts brain serotonin levels - the mind's neurochemical brakes - negatively impacting impulse control, especially in adolescent males. But imagine trying to focus and concentrate for an entire day while chemically enslaved brain dopamine pathways scream "want" for more nicotine. Imagine either cutting that next class to feed your addiction or getting caught doing so on school property, being suspended and falling further behind in your classes. Welcome to the student's world of nicotine normal.
This is one of the first studies ever to suggest a "
strong association
" between tobacco use and a failure to graduate from high school. It suggests that parents and educators are dropping the ball by failing to treat nicotine on a par with other drugs of addiction. Joel's
Kids Just Don't Get It
says it best:
" I don't mean kids lack the common sense to make a rational decision about smoking. What they don't get is the real information in a manner that helps them understand the magnitude of the danger and the power of the addiction. Without this understanding, they are not equipped with the ammunition to overcome peer pressure, as well as tobacco promotion tactics by cigarette manufacturers. "

The corner store has zero signs warning students that nicotine is highly addictive. There is no sign hanging in a store window or over the check-out counter stating that it may only take using tobacco one or two times before the brain begins begging for more. But then there are no hall posters in any schools warning them either.
Instead, signs fill neighborhood stores that beg students to give tobacco a try. They teach the false message that daily adult users don't use because they're addicted but because they seek great flavors, pleasure, excitement, the finest menthol, adventure, rebellion, new friends, to be cool, or to look more adult.
Hunger pains, nicotine pains. Nicotine addiction is like being hungry every thirty minutes or so, all day long. Imagine trying to concentrate while your brain is elsewhere.
It doesn't take money or some fancy program to fight back. All it takes is for one concerned adult to make one truthful poster that finds its way onto the school's wall. Together we can make a difference!
Breathe deep, hug hard, live long,
John (Gold x11)
---
Childhood and adolescent onset psychiatric disorders, substance use, and failure to graduate high school on time.
J Psychiatr Res. 2010 Jul 15. [Epub ahead of print]
Breslau J, Miller E, Joanie Chung WJ, Schweitzer JB.
University of California, Davis, School of Medicine, Department of Internal Medicine, 2000 Stockton Blvd, Sacramento, CA 95817, USA.
Abstract
We examined the joint predictive effects of childhood and adolescent onset psychiatric and substance use disorders on failure to graduate high school (HS) on time. Structured diagnostic interviews were conducted with a US national sample of adults (18 and over). The analysis sample included respondents with at least 8 years of education who were born in the US or arrived in the US prior to age 13 (N = 29,662). Psychiatric disorders, substance use and substance use disorders were examined as predictors of termination or interruption of educational progress prior to HS graduation, with statistical adjustment for demographic characteristics and childhood adversities. Failure to graduate HS on time was more common among respondents with any of the psychiatric and substance use disorders examined, ranging from 18.1% (specific phobia) to 33.2% (ADHD-combined type), compared with respondents with no disorder (15.2%). After adjustment for co-occurring disorders, significant associations with failure to graduate on time remained only for conduct disorder (OR = 1.89, 95% CI 1.57-2.26) and the three ADHD subtypes (Inattentive OR = 1.78, 95% CI 1.44-2.20, Hyperactive-Impulsive OR = 1.38, 95% CI 1.14-1.67, and Combined OR = 2.06, 95% CI 1.66-2.56). Adjusting for prior disorders, tobacco use was associated with failure to graduate on time (OR = 1.97, 95% CI 1.80-2.16). Among substance users, substance use disorders were not associated with on-time graduation. The findings suggest that the adverse impact of childhood and adolescent onset psychiatric disorders on HS graduation is largely accounted for by problems of conduct and inattention. Adjusting for these disorders, smoking remains strongly associated with failure to graduate HS on time.

Copyright © 2010 Elsevier Ltd. All rights reserved.
PMID: 20638079 [PubMed - as supplied by publisher]

PubMed Link: http://www.ncbi.nlm.nih.gov/pubmed/20638079