---
"Nicotine Bees" Population
Restored With Neonicotinoids Ban
by Roberta Cruger, Los Angeles on 05.15.10
Science & Technology
Following France and Germany, last year the Italian Agriculture Ministry suspended the use of a class of pesticides, nicotine-based neonicotinoids, as a "precautionary measure." The compelling results - restored bee populations - prompted the government to uphold the ban. Yesterday, copies of the film 'Nicotine Bees' were delivered to the US Congress explaining the pesticide's connection to Colony Collapse Disorder. Despite the evidence, why does CCD remain a 'mystery' in the US?
Nicotinyl pesticides, containing clothianidin, thiametoxam and imidacloprid, used to coat plant seeds, are released into the lymph as a permanent insecticide inside the plant. But after just sucking dew from maize leaves that absorbed neonicotinoids, disoriented bees can't find their way to the apiary. Massive numbers of bees get lost and die.
In 2009, Italy's neonicotinoid-free corn sowing resulted in no cases of widespread bee mortality in apiaries around the crops. This had not happened since 1999. The European Research Center, Youris, reported that Moreno Greatti, from the University of Udine stated, "Bee hives have not suffered depopulation and mortality coinciding with maize sowing this year. Beekeepers from Northern Italy and all over the country are unanimous in recognizing that the suspension of neonicotinoid- and fipronil-coated maize seeds."
Although varroasis (infections from mites) and other pathologies are found at other times of the year, suspending neurotoxic insecticides improved the situation significantly. Francesco Panella, President of the Italian Association of Beekepers, says: "On behalf of beegrowers working in a countryside dominated by maize crops, I wrote to the Minister of Agriculture to confirm the great news, for once: thanks to the suspension of the bee-killing seed coating, the hives in the Po Valley are flourishing again."
Not true in Southern Italy, where bee mortality was high in citrus groves, which were sprayed with neonicotinoids, also used in vineyards and other crops. The new law has been challenged by the agrochemical industry but the Italian government upheld the ban.
Want to eat?
With pollination responsible for one-third of our food supply, the loss of 30% of our bee population prompted the Pollinator Protection Campaign by the Sierra Club. It bought 333 copies of Nicotine Bees which were delivered to Congress on May 13 and 14, along with 50 more from the filmmakers, with a letter from the National Honey Bee Advisory Board. The American Beekeeping Federation and American Honey Producers Association are asking Congress to stop the threats from systemic pesticides to food supplies, honeybees and pollinators. Send a copy to the other 152 members of Congress by contacting the Sierra Club's bee campaign.
The bees steep decline in 2005 and 2006 was catastrophic around the world. In the UK bee numbers have been halved over 20 years, with reasons including the pesticide and warmer winters due to climate change. Honeybee pollinated fruit trees and crops in Britain amount to £165m annually, so a campaign to grow bees in city gardens and roofs has been an attempt to halt decline.
Despite the scientific data, reports still claim the reason for the bee crisis is unclear, even blaming cell phones. So what's really holding up the banning of neonicotinoids? As a beekeeper in the documentary says, "A fifth grader can figure this out."
Copyright © TreeHugger.com 2010


---
Discovery Strengthens Link Between
Pesticide Use and Colony Collapse Disorder

Source: The Organic Center

Published: Thursday, February 04, 2010

Scientists around the world have been trying to identify the risk factors driving honeybee Colony Collapse Disorder (CCD). There is near-universal agreement that the problem remains severe; many factors can trigger CCD, and of these, several appear to depend on a weakened bee immune system; and, exposure to pesticides, and in particular the persistent, systemic nicotinyl insecticides are likely to be involved in many CCD episodes.
In an important breakthrough, scientists in Europe have discovered a major new, widespread exposure pathway through which bees are ingesting nicotinyl insecticides in virtually all intensively farmed regions – honeybee sources of drinking water. In October, 2009 at a scientific meeting in Paris, Hedwig Riebe summarized recent research on this new exposure pathway (Riebe, 2009).
In the morning and throughout the growing season, essentially all plants emit water in the form of guttation drops. Guttation drops come from inside plant cells, and can carry with them, into the outside world, natural or man-made chemicals that are present in plant cells, such as residues of systemic pesticides that have moved, as they are designed to do, throughout plant tissues. The latest results from European research found 20 parts per billion of nicotinyl insecticides in guttation droplets, almost certainly enough to deliver a dangerous dose to nearby bees.
Inside hives during warm spring and summer nights, bees are hard at work fanning the hive with their wings to help keep the queen comfortable and the brood safe. Each morning at first flight, the bees are dehydrated and thirsty, and seek out a nearby source of moisture. The drops on leaves in nearby fields, typically a mixture of moisture from guttation and dew, are a favorite first stop and common source of hydration. If the field was planted to a seed treated with a nicotinyl insecticide, or if the field/crop has been sprayed with a nicotinyl, the bees will be exposed to some level of systemic nicotinyl insecticide.
In some cases this exposure will prove deadly, as documented in 2009 European research. In other sub-acute exposure cases, the bees ingest enough nicotinyl to weaken their immune system, or disrupt their sense of direction and ability to navigate, or both. These sub-acute impacts are widely recognized factors contributing to or occuring during CCD.

Source Link: http://www.lohas.com/articles/102562.html
Copyright © LOHAS 2008
---
How might these nicotine based insecticides kill?
Biochemical Processes Related to
Insecticide Action: an Overview
by Isaac Ishaaya
Acetylcholine Receptors
Efforts have been made to develop nicotinyl insecticides with high affinity to insect nicotinic acetylcholine receptors (nAChR), resulting in the development of a new group of neonicotinoid insecticides (Abbink 1991; Tomizawa and Yamamoto 1992; Liu and Casida 1993; Elbert et al. 1998). Neonicotinoids of potential use in agriculture are imidacloprid, acetamiprid and thiamethoxam.

These compounds interact with nAChR in a structure-activity relationship (Tomizawa et al. 1995a,b), resulting in excitation and paralysis followed by death. Their selectivity results from a higher affinity to the insect nAChR as compared to that of vertebrates, in contrast to the original nicotine compound (Tomizawa et al. 1995b). Hence it has been suggested that imidacloprid and related compounds be called neonicotinoids (Yamamoto et al. 1995).
Imidacloprid displaced radiolabeled a-bungarotoxin, a specific ligand of nAChR, in the ganglia of the American cockroach, indicating its direct interaction with the receptor (Elbert et al. 1998). Electrophysiological studies with imidacloprid on the cholinergic motor neuron of Periplaneta americana revealed a depolarization of the cell membrane similar to that of acetylcholine (Bai et al. 1991). High affinity of radiolabeled imidacloprid to the binding site was also observed in housefly head membrane (Liu and Casida 1993) and the green peach aphid (Nauen et al. 1996). One of the important features of these compounds is their selectivity towards insects; their affinity to interact with rat nAChR was 1000 times weaker than that with the insect receptor (Methfessel 1992; Zwart et al. 1994).
Imidacloprid, 1-(6-chloro-3-pyridylmethyl)-N-nitro-2-imidazolidinimine, and acetamiprid, E)-N1-[(6-chloro-3-pyridyl)methyl]-N2-cyano-N1-methylacetamidine, are the first neonicotinoids to be commercially used to control agricultural pests. They are also called chloronicotinyl insecticides, indicating the biological importance of the chlorine moiety in their chemical structure (Leicht 1993). Imidacloprid is a relatively polar material with good xylem mobility suitable for seed treatment and soil application (Elbert et al. 1998).

Source: http://www.abe.pl/html/samples/b/3540676252.pdf


---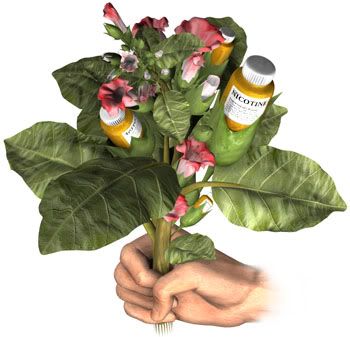 Nicotine Facts

Drop for drop nicotine is more lethal than diamondback rattlesnake venom.

Just 2 to 3 drops applied to the skin will kill a 160 pound human.

Just 1mg, the amount inhaled with each cigarette, would kill a large rat.

Recent studies suggest that nicotine destroys brain gray matter.


---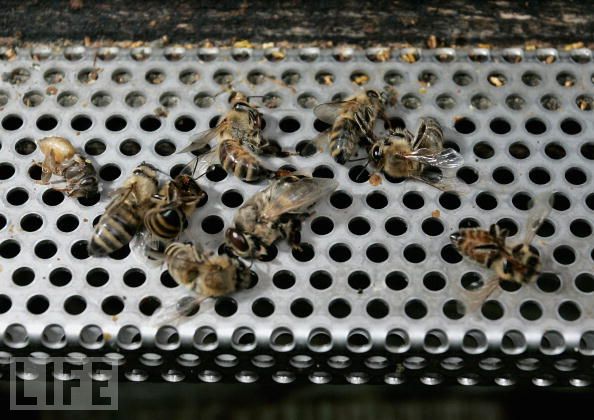 Millions of Bees, Millions of Humans
While bees are not subjected to the more than 4,000 chemicals released by burning tobacco, ask yourself, how many of the 5 million humans expected to be killed by tobacco this year would have died if not addicted to the natural insecticide nicotine? This forum and
WhyQuit.com
are dedicated to a single cause, freedom from nicotine!
Key to dramatically enhancing your odds of breaking nicotine's grip upon your mind, priorities and life is to become more dependency recovery savvy than your addiction is strong. We hope you'll bookmark our sites and continue reading, learning and growing in understanding until ready to return home and reside here on Easy Street with us.
What we know that you may not is that your thinking regarding that next nicotine fix is under the control of your addiction and unworthy of belief. While there, you need a reference source you can trust, one that wants your concentration not your money, that seeks your freedom with 100% of the glory yours to enjoy. Our sites offer free quitting ebooks, video and audio recovery lessons, hundreds of original quitting articles, and serious and focused peer group support.
We leave you with one more fact that is rarely heard, that this year more successful long-term ex-smokers will stop smoking cold turkey than by all other quitting methods combined. In fact, it is estimated that 80-90% of all U.S. ex-smokers quit smoking cold turkey. If you've tried cold turkey previously and failed, consider giving educated cold turkey quitting a try. Discover why there was always only
one rule
... no nicotine today!
Breathe deep, hug hard, live long,
John (Gold x11)